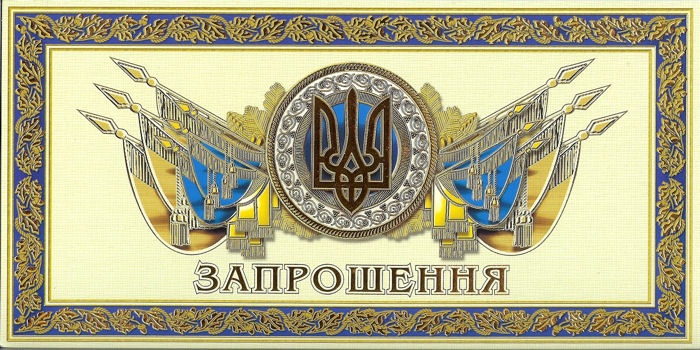 Its all about the caps at the end of the day! Having missed out on 4 caps for the away games in Croatia and Kazachstan it was always on the cards to jet off to Ukraine. Afterall, theres a direct daily flight from Munich to Kiev so easy-peasy-japaneese. Or so we thought. Having booked the flights on air-miles 7 months in advance, rumours circulated of a venue change to accomodate refurbishment of the national stadium in Kiev. It was July or August before the announcement for Dnepropetrovsk, Ukraine's third larget city. Fortunately we speculated on this and already had tickets for the domestic flight from Kiev. But it did mean we were now paying for a trip which was originally supposed to be free. Nevermind.
Due to the internal flight to/from Kiev we had to rebook the return flight to Munich to the Monday afternoon, which incurred a rebooking fee, taking the cost of the flights to over 200 euros. It hadn't been worth being so organised in the first place, but at least we had connecting flights as many other fans ended up taking the train or bussing from Kiev to the match, a journey taking 8 hours due to the poor roads and directions. We booked a 2 star hotel via the Web as there were no better choices on offer and we prepared ourselves for the worst by taking our own sheets and loo-roll!!! So with a bit of trepidation we set off to see a new part of the world and claim 2 more caps in the process.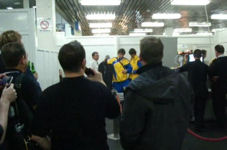 We had a 5 hour lay-over at Kiev airport but at least Boryspil has abit of life to it with cafes and kiosks and plenty of people milling around, in contrast to Minsk airport a year ago where waiting for a flight is worse than watching paint dry. Waiting in the cramped departure area, the Ukraine 1st team came through to jeers and terrace chants. The heavies were sent in to keep order but the lads were only interested in jibing with "Rooney's gunna get ya,..." and something about Veronin being the only russian porn star, which needs some explaining.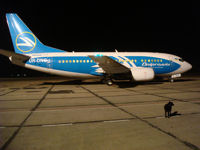 Due to bad weather over Dnepro we unexpectedly landed in Zaporishya, a provincial airport with a deserted feel, where we were allowed to wander around at will. Alarmingly some passengers convinced the steward to unload their luggage from the hold and take a taxi home! Methinks the EU would not be so laid-back. We filed through a second rate looking security scanner in order to reboard the plane and some of the lads discovered the worst toilet in Ukraine whilst waiting in the departure "shed". Happy days.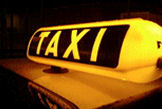 It was past midnight as we emerged into Dnepro arrivals hall and so the darth of taxis is explainable. However, the local taxi drivers who are notorious for raising the prices for foreigners should have kept tabs on the arrival schedule to scam us late-comers. We approached a taxi reserved for someone else and he gave us a number to ring, Doh, can't speak Ukraine. Two pre-booked coaches with Englandfans drove off leaving us feeling a little folorn, it was raining, it was late and we were tired. We approached the only policeman in the building and he told us to wait 10 minutes and called someone for us.
Various scenarios play-out at this point. The tales posted to the Web show that any degree of scamming is possible in Ukraine from typical doubling of the fare, right through to driving off to the middle of nowhere and demanding 300 euros! Our taxi duly arrived, the policeman said something to the driver and off we went. I tried in vain to negotiate the price but the driver, who spoke no english just motioned us to get in. There was a meter running and on arrival after 25 minutes he asked for 35 ukraine which is about 4 euros! Incidentally the return fare on Sunday cost 65 ukraine with no meter running. So perhaps the policeman told the driver to treat us right or more likely, he was just a regular guy doing his job.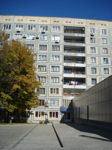 Picture the scene, its 1am, we're tired, the plane was rerouted and the taxi needed sorting, so it would be the last straw if the 2 star hotel booked over the Web turned out to be a dive forcing us to doss down in a noisy, dirty room. The taxi dropped us off but it was dark outside and so all we could see was the hotel sign. We entered reception, disturbing the security guards and were pleased to find a renovated, tidy building with helpful staff. The english speaking "concierge" showed us to our room which turned out to be a suite, fully renovated, bright and clean. So we lucked out and we assume the 2 star rating was due to the other floors of the hotel which were not advertised as "luxury". To top it, the stadium was directly opposite!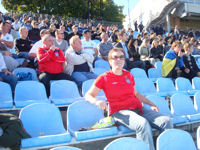 Saturday was a warm sunny day and so we strolled for an hour up Kirov Avenue all the way to the Meteor Stadium, the old Dnipro ground where an Englandfans team took the lead before being soundly rubbished 6-1. Dave Beverley swapped his refs shirt and came on for a cameo spot only to score a sweet own goal. The locals were well-up for the fixture and organised everthing suberply allowing Mark Perryman to relax for a change.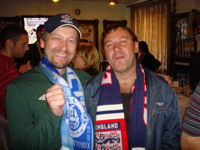 A reception for Englandfans was hosted by the British Council at a sports bar where we hoovered up the buffet and sank the free beer. The formality brought to proceedings by the presence of the boss of the British Council did nothing to alter the terrace chanting and the Ukrainian fans led a chant to match our rendition of "Walking in a Robson wonderland...". I swapped a scarf for a Dnipro club scarf with a fella who appeared to be there just to do a swap!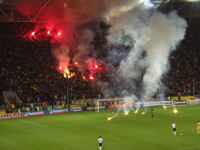 The new Dnipro stadium is probably one of the best structures in the city and was ideal for the fixture producing a great atmosphere. However Ukraine will not host any Euro 2012 games there due to the capacity being 2000 short of the 33,000 requirement, pity. Following kick off Ukraine Ultras tossed flares at our keeper and the game was held up until the fires were put out! Nevertheless, Robert Green left the field soon after having been red carded for a cynical foul on their striker following sloppy play from Rio. They missed the pen but went 1-0 up soon after following yet more messing about in the box by our defence.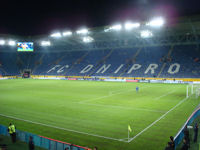 We dominated the second half with only ten men and the press reports were not generous enough with their coverage. You will never see a more impressive attempt to get back into a game when one man down. Capello used the opportunity to motivate the players to proove themselves in this situation. A good idea considering England were reduced to 10 men in both the 1998 and 2006 World Cups both times failing to avoid defeat. We were held back for half an hour at full-time but were royally entertained by the Chicky Girls cheerleader team. Sweet.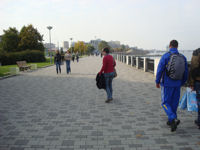 Sunday started out cloudy but became another bright sunny day and we picked a good walk starting at the Historical Museum, through Schevchenko Park and on to the island in the Dnepr which hosts a permanent fun-fare. After a ride on the ferris wheel we strolled along the promenade which runs the complete length of the shoreline back to the other end of town. Its clearly one of the newest and best features of the city. Lunch at a place on the prom was testing due to the slow service, a regular feature of our trip but the food did make up for it and we can recommend shashlik grilled fish...and chips!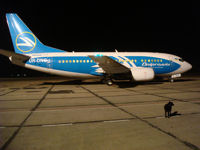 Normally the return flight to Kiev wouldn't need mentioning but one incident deserves it. We're in the small departure "lounge" at Dnepro airport and it slowly fills up with Englandfans some more worse for wear than others. Three drunk fellas sit down near us and proceed to give everyone a laugh. "Lloyd" has forgotten to bring his luggage through from the check-in hall and claims its been stolen. "Its gone, mate...gone. Its gone, mate" but following 20 minutes of constant hassle from his drunk mates he goes to retrieve it. Firstly he tries to walk straight past the staff round the side of the metal-detector. They try to stop him but eventually they let him through...
...He returns with the case and walks straight through the detector dragging it behind him. They get the bag off him, and he tries to go through again this time with phone, money, keys, etc still in his pockets. They take them off him and he gets through a third time only then to walk off forgetting the case, causing everyone to fall about the place. Finally the heavies made him go to the desk and pay a fine for the hassle he caused, apparently 30 euros but in his state it could of been 300. We jetted off with these 3 guys sat in the row behind us. It wasn't Lloyd's correct seat but hey, just add that to the list :-)
Logistics
Visa: none required for owners of EU passport, no doubt a minimum of 6 months remaining before expiry is mandatory. We queued for 20 minutes at immigration but were asked no questions at all. We arrived with the usual health insurance from ERV but they did not ask to see it, nor were they forcing anyone to buy insurance (in contrary to the info on the Web which says visitors are obliged under law to buy the state insurance).
Money: bought some ukraine at Munich airport prior to departure at a poor rate of 10 to the euro. Used exchange kiosk open in the arrivals hall in Kiev where we changed at 12.20 ukraine to the euro which was about 0.30 less than the exchange rate. We exhanged remaining ukraine back to euros prior to the return flight. We used ukraine cash the whole time.
Taxis: as reported, there were many reports of fans being scammed but that wasn't our experience, we were told that an airport taxi in Dnepro normally costs locals 60 ukraine and we paid 35 and 65; for Kiev it is normally 200 ukraine for foreigners, we paid 250 each way. All our cars were regular taxis with a sign on top. There are taxi ranks, so I see no reason for not avoiding the "opportunists".
Crime: felt safe the whole time. The fans forum reported incidents of robbing but that wasn't our experience. The help from the policeman to get a taxi late at night in Dnepro goes to show that its not a stereotype. The football game was also trouble free.
Food: when we got the food it was great, especially anything shashlik, but service is slow so don't be in a hurry, also you have to order everything individually, so if you only order a kebab, then all you get is a skewer with cubes of meat on it, nothing else! We fell into this trap and due to various reasons we didn't get a square meal for the four days we were away. Restaurants close at 10 or 11pm.