Paris in the Springtime
24-27. March 2008. Life begins at 40 they say. We visit Paris in order for Bev to find out!
The Good & the Great in Montparnasse
We visited Satre (J.P.) and Samuel Beckett at Montparnasse cemetery on a suitably gloomy and grey day. Whilst Beckett had a few flowers on his grave, Satre had the full-on grave adornements...a set of Pluto tea mugs lined up in a row and a line of tree logs. Wikipedia has the following interesting stuff on Beckett:
"Beckett joined the French Resistance after the 1940 occupation by Germany, working as a courier, and on several occasions over the next two years was nearly caught by the Gestapo. In August 1942, his unit was betrayed and he and Suzanne fled south on foot to the safety of the small village of Roussillon, in the Vaucluse département in the Provence Alpes Cote d'Azur region. Here he continued to assist the Resistance by storing armaments in the back yard of his home. During the two years that Beckett stayed in Roussillon he indirectly helped the Maquis sabotage the German army in the Vaucluse mountains,[12] though he rarely spoke about his wartime work. Beckett was awarded the Croix de guerre and the Médaille de la Résistance by the French government for his efforts in fighting the German occupation; to the end of his life, however, Beckett would refer to his work with the French Resistance as 'boy scout stuff'.[13]"
A very popular grave belonged to Serge Gainsbourg. He had a Teletubby hanging in some branches along with characatures of him with a fag in his mouth.
Montparnasse appears to be a popular entertainments area offering a number of cinemas. Its blighted by a large modern development containing C&A, Galerie Lafayette and the like, a concrete railway station reminiscent of the Tricorn Centre and a dull tower block equal in height to the Eiffel Tower. However there are plenty of bars, cafes and restaurants in Montparnasse including some institutions such as La Coupole. We ended up in the "Montparnasse 1900", a restaurant with an Art Deco interior where we chose to eat everything the seagulls wouldn't touch! Entrées of snails and boiled eggs lyonnaise was followed by a sea-platter of:
Large clams
Whelks
King prawns
Tiny micro prawns (useless, replaced by more whelks!)
Mussels
Oysters (lots)
Crab (in shell with claws)
Langostines (whole)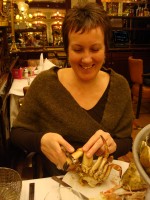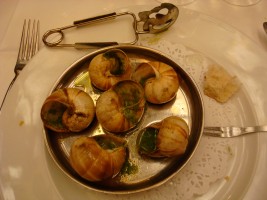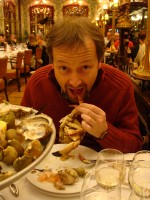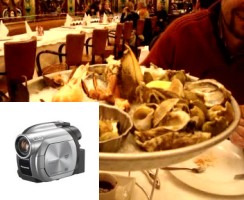 Bev had good old tarte tatin for pud', but I (luckily) ordered France's truly glorious contribution to waistlines, the warm, runny chocolate sauce in a soft chocolate sponge with vanilla ice-cream. Its soooo good, its THE counter argument to all those who say "I'm not a pudding person".
The Rich & Famous at Rostang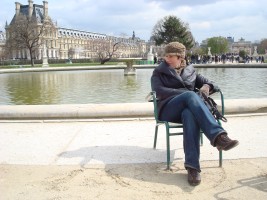 Paris tourist attractions are often closed on Tuesdays so read the guide book carefully before setting out...! If not closed, then very busy with queues to rival football crowds (with attitudes to match no doubt), so if you're really keen on visiting a place then pre-booking is the only way. Museum D'Orsay for example has a separate entrance for reservations, which won't help you avoid the large crowds inside but will get you in the place without waiting, important should it be a rainy day. However a stroll along the (in)-Seine is always open and we wandered along Rive Gauche, over to Place Concord, thru Tuilleries, past the Louvre and over to Les Halles before crossing back over the river to Notre Dame, the Pantheon and finally back to the hotel arriving with dead legs of lead.

This was all just a pre-cursor to dinner at Michel Rostang's gaff not far from the Arc de Triomphe. Not sure what the gold symbol means but "relais gourmand" says it all and so it was that we dined in classic surroundings with more waiters than customers to hand. The maître d' spoke english in a Gyles Brandreth accent, was "an absolute darling" and hopefully thought the same of us, as we were probably the only people there not on an expense account and his experience would have told him that. He translated and salivated over the menu and kept us amused. The sommelier was conspicuous by his absence when it came to choosing the wine, his loss, as the chosen wine was not "excellent" as our waiter had suggested, a 2004 Chambolle perhaps better entitled 2004 Shambles. Nevermind, feast your eyes on the list of courses which flowed, some ordered, some complimentary:
Mini tuna club sandwich (Bev reckoned it was by Shiphams)
Ameuse bouche:

Boiled egg! Egg yolk only with truffle, the hole capped with artichoke pastry!
Sea scallop "cappuchino", tres yummy

Breaded FROGS LEGS (hooray) with fennel and cherry tomatoes stuffed with bacon bits and pine nuts and and and...
Foie gras and leek terrine with black truffle straws
Milk lamb bits (chop, back, etc) with Peter Rabbit carrotts and stuffed vine leaves (but not the greek way!)
Kidney vol-au-vent with sweetbreads in crayfish sauce served with Peter Rabbit carrotts and rüben
...skipped the cheese course because we pre-ordered...
Soufflé with hazelnuts and caramel sauce served with pepper ice-cream and cherry brioche
Petits four...ignored due to the "wafer thin mint" syndrome and coffee.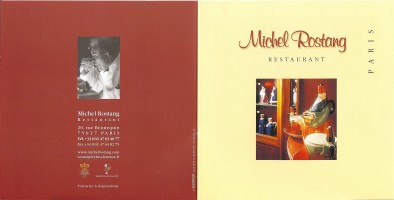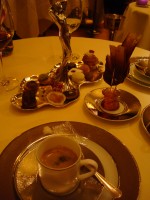 It wouldn't have been at all surprising if some french celebrity had graced the place for dinner but on this particular Tuesday night they were elsewhere, but that only helped us enjoy the attention of the staff more. There were high-flyer banking moguls in the private glass dining dome and a Daddies-treat birthday party gorging on lobster and couple of fellas sharing the worlds largest sole meunière. Should we be flash enuff to patronise Rostangs gaff again I would go for the lobster followed by the sole washed down with Chablis Premiere Crus, but frogs legs and kidney vol-au-vent in a crayfish sauce?...it don't get more frenchy than that.
Go to Marais, Buy Cake, Be Happy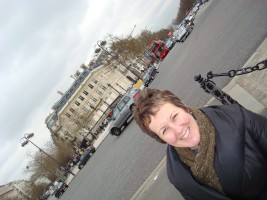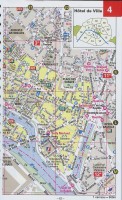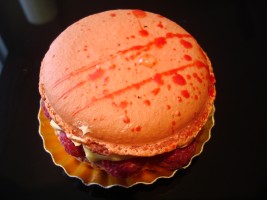 Todays tour started with the Arc de Triomphe, via the Hitlon Hotel to fetch the match tickets and from Champs Elysees across town with the metro to the Marais disrict. The Marais is recommended by the guide book for strolling around and it is indeed a quieter, posher area of Paris with narrow streets and grand architecture. We had lunch at the laid back Le Loir dans la Theiere on Rue des Rosiers which offers savoury tarts, wok mixes and huge portions of home made cake, all washed with down with lashings of tea. The Picasso Museum wasn't quite so appetizing, despite the nice chateau that its housed in. I guess you have to know your art to really appreciate it. A couple of charcoal sketches done by the young Picasso at only 14 clearly demonstrate the huge talent he had but the large clumsy dinner plates and other pottery he did in later years wasn't so marvellous. Real art can be found in the cakes shops on Rue Vielle-du-Temple just north of Rue de Rivoli and we liberted 3 fine pieces for restoring our energy levels prior to the footy match.

Calamity James...Deja-Vu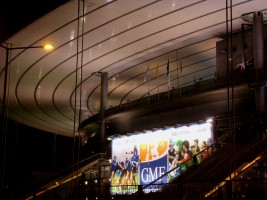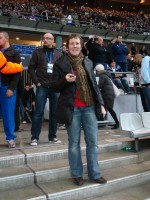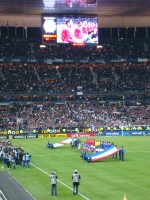 It gauls me to say it but the Stade de France is quite a nice stadium, both in and out, not bad for 280 million quid. Transport to the stadium is good, with 3 alternative routes but the bogs in the stadium are rubbish with huge queues for blokes and chicks. One very brave frenchie got in with the cream of british bulldog to heartily sing the french national anthem and he was despatched accordingly, an unexpected early present for the bulldogs over for abit of rough and tumble. England dominated the match and moved the ball around and around and around, except for in the opposition box where Rooners and Stevie-G were left chasing dreams. This was Don Fabs second match in charge following the 2-1 win over the mighty Schveeetz. Despite "being his own man" he still picked from the same old bucket but shuffled his cards by playing one up front and moving Smoke&Mirrors further forward with both Fat Frank and Barry behind. The frenchies main man was the in-form Ribery who was having a cracker at Bayern and so it seemed only right that he should convert the pen they got when Calamity upended Anelka in the box. It was a carbon copy of the pen they got in euro2004, naturally Le Sulk was looking for it and made damn sure he was in the way but Calamity just barrelled into his path without jockying or shepharding him away. He's had a great season for Pompey and has rattled up loads of successive games but for England he still manages to make the wrong decisions. Poor lad, poor us. I had the raging trotskys so was happy to leave five minutes from the end to get the train. BTW it was Sir Becks 100th cap and so thats now out of the way, although I suspect each time Becks reaches the caps level of a previous England great, the press will clamour for his selection. He played well and was pivotal for the team, played most of the game but was substituted towards the end producing massive, appreciative applause from the hosts.
St.Germain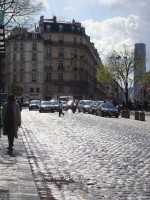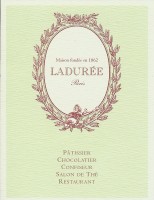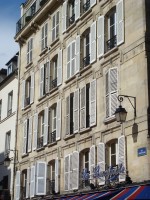 A stroll around St.Germain is pleasant enough taking in shopping, narrow streets and the wonderful macaroons at Laduree. We bought a french cook book...in french and finally liberated a copy of Hatchett, the french guide to french wines, which is a snip at 26 euros for 16,000 reviews! However it was schluss-mit-lustig when despite punctual arrival, Air France decided to cancel our flight due to "technical faults" which was later blamed on "a lightning strike" and ushered us back to the check-in queue to get another ticket. The next flight was oddly only an hour later prompting the suspicion that our flight regularly develops "unexpected" reasons to be cancelled, but anyways, the frogs pulled a sparkling new Airbus out of the hanger and packed a million people off to Münch.
Fazit
I was left with a grander impression of Paris than from previous trips. The average building has the standard parisienne design: about 5 stories high, grey terrine shaped roof with dormer windows and each apartment has the ubiquitous french window with shutters. There is no other design, perhaps not exactly forbidden but clearly not wanted. Parisians are friendly, the atmosphere is pleasant which is in contrary to my previous impressions, but if you are going to hang around the Pigalle what can you expect! The food is great and we tucked in as expected. Snails, fresh fish and those luvvley puds. Just go for the food, cafes and a wander around and leave the museums to the tourists!
Logistics
Air-France and the crap departure area notwithstanding, CDG airport is well connected to the city with the S-Bahn (RER line B) leaving every 15 mins, stopping at all tube stations along the main north/south artery. As we had been warned, despite the multitude of ticket machines which offer card transactions you, the foreigner, can only pay with cash and then only with coins. A RER ticket into town costs 8 euros something and so you need some change handy coz there are no shops around to offer any :-((
10 out of 10 for the public transport. Paris buses and tubes run so frequently that a timetable is not necessary and probably isn't printed. Tube trains run about 2 stations apart and the stations are about 500m from each other! If you miss a bus you can spin round and see the next one coming down the street. A book of 10 tickets work on all transport and a stamped ticket is probably valid for all inter-connections. The tube trains are abit toytown, but the doors make a great farting sound when they open!
The Paris Marriott Hotel Rive Gauche on Boulevard Saint Jacques is a large business hotel, unattractive from the outside but the rooms are good. The beds are possibly the most comfortable ever slept in, apparently Marriott beds are famous for it and I wouldn't dissagree. We had problems with our first room but we changed to a better one with separate beds!! The hotel is 600m from Denfert-Rochereau tube/S-bahn station and is therefore perfect for the airport, town and the footy. There is a metro station nearby the hotel but the line goes only to the west and on to the Arc de Triomphe. There isn't much in the way of restaurants and bars immediately around the hotel but there are some at Denfert-Rochereau and the nearby tube goes direct to Montparnasse, only 4 stops away. The hotel must also be handy for Orly airport as there are many flight crews staying there and the Orly bus appears to go past the front door.