England Away
Euro2008 qualifiers against Israel and Andorra 22-29.3.2007
Motivation
It being unlikely that either of us would make a business trip to the Middle East, the fixture away to Israel was a neat opportunity to travel to somewhere unusual and interesting whilst also gaining two unlikely caps for Englandfans. Initially we had hoped to visit Estonia for the away fixture but with the ticket allocation being announced at only 1200 we switched attention at the last moment to the Andorra game which had been moved to the 50,000 seater Olympic Stadium in Barcelona. In hindsight getting the two caps for the Andorra game proved necessary as 12,000 tickets were allocated to Englandfans meaning that our efforts to travel to Israel would be cancelled out by fans taking the more accessible trip to Spain. An already "sportlich" itinary was compounded by Amanda inviting us to the UK for a mega 40th bash on the 31st. Bev decided she could manage 8 flights in 10 days and so booked the trip home too.
Peace in the Middle East?
As luck would have it, in January Kabel Deutschland started showing the english version of Aljazeera, the news channel that came to fame as a result of the second Bush offensive in the Gulf, with extensive coverage of Middle East affairs. Nobody in the western world could have watched more of their coverage than me, looking for any unrest in the Israeli-Palestinian conflict. Its been alot quieter in the region recently following Israels withdrawal from Lebanon in 2006, a war started by them in an attempt to crush Hizbollah. A UN buffer zone moved into southern Lebanon to calm things down but as one lebanese guy on Aljazeera pointed out, why isn't the buffer zone in northern Israel instead of southern Lebanon? You could say Israel achieved its objective in stopping terrorists from crossing into their territory.
The bus bombing campaign of a couple of years ago has not reared its ugly head in recent times with oddly only one incident occuring in Lebanon itself. About a month before the fixture, rival factions in the Gaza strip began a power struggle resulting in the deaths of 20 people. Hamas tried to deflect attention away by persuading some poor dumb sod to blow himself up in Eilat. He chose a bakery to let off his load, killing just 3 people. The power struggle continued until Saudi Arabia hosted a meeting of Hamas and Fatah in Mecca. They decided to reappoint the Palestinian cabinet on a power sharing basis with 8 seats for Hamas, 4 for Fatah and 4 "independents", one of which would run the interior ministry. This agreement effectively ignored the result of the last Palestinian elections where Hamas were run-away winners, nevertheless the Gaza strip returned to peace and there were no reports of unrest in the region prior to or during our visit. Just the small matter of the 130,000 US troops in Iraq trying to put down the insurgents supported by Syria and Iran remained. Due to the war in Lebanon, Israel had been forced to play their first "home" fixture of the Euro2008 campaign in Holland, but since the UN intervention Israel had hosted Croatia and now it was our turn to appear at the Ramat Gan stadium in Tel Aviv.
McClown Under Pressure
Under the new McClaren regime England had got off to a good start, pasting Greece 4-0 in a friendly and seeing off Andorra 5-0 at the start of the Euro2008 campaign. A trickier away game in Macedonia saw robo Crouch step up to the plate to secure the three points. We faced Macedonia also in the next game but couldn't penetrate their 11 man defence resulting in a 0-0 draw. Next we faced Croatia away in Zagreb and in its wisdom the McClaren-Venables think-tank decided to experiment with a 3-5-2 formation. In what was arguably our toughest fixture in this campaign we went down 2-0 to a team that had never lost at home. The press sharpened their knives ready for any further slip up. A 1-1 draw in a friendly away against Holland eased the worries especially as England looked comfortable back as 4-4-2 and Rooney had found the net. However following a 3 month break, England lost 1-0 in a friendly at home to Spain and the knife grinders were out again. By now England had dropped down group E behind Croatia and Russia and a win away in Israel was essential to prevent us from losing touch with the front two especially as Croatia managed to win in Tel Aviv. Consequently the press were winding up the footballing nation and a McClaren hate campaign was well under away on arrival in Israel. I'm a fully paid up member, indeed a founding member of the "McClarens not worthy" campaign but the newspapers print bile and nonsense and I wont be a part of that.
Ever Felt You Were Being Used?
Everything was arranged for our trip. Mark Perryman had performed his usual organisational magic tricks and we were signed up for the "fan-friendly" events for a meal with Maccabi GB on the Sabbath followed by a trip to Galilee to visit the best arab team playing in the Israeli league. We also intended to visit the Dead Sea and Masada on the Sunday followed by Jerusalem on the Monday and so with only the colour of socks and number of sunglasses to worry about we were left unsettled by rumours indicating that airport workers in Tel Aviv were planning to strike over the following days. This turned to shock on the day prior to our flight following confirmation that a
general strike
of indefinate duration was in force and that all public services were closed including airport services. The BBC went as far as to say that all flights were cancelled except for the England team's arrival scheduled for Thursday night. With such clear statements I immediately went into damage limitation mode and suggested we cancel the hotel. Bev's nerve held out longer and regular checks of flights in and out of Ben Gurion airport in Tel Aviv showed that it was business as usual. The Alitalia flight from Milan had departed for Tel Aviv with only a minor delay and so we waited with fingers, thumbs and toes crossed. By 6pm Israeli authorities had negotiated an agreement with the unions and the
strike was called off
. It seems that some public staff had not been payed for months and the unions appear to have used the football fixture with its promise of 4000 tourists to bring the problem to a head. A brave political move which brought immediate results. We had been used by the unions but alls-well-that-ends-well and our trip was back on.
Jaffa Oranges and Potato Pasties
I love the contrasts that flying abroad presents: breakfast in Germany, Italian lunch on the plane and dinner in the Middle East. Having arrived on-time and relaxed we sauntered up to old Jaffa in search of the famous fish restaurants and stumbled across the
Aladin
, a no nonsense rustic restaurant run by friendly staff and with a good menu. And so it was very fitting that the first meal in Israel lived up to expectations and consisted of tahina (sesame seed paste), humus (chick pea paste), a mixed plate of falafal and assorted fried lamb pastries, sea bass and battered sole. Aladin's charm is its setting in an old stumpy fort blessed with sweeping views of the Tel Aviv shoreline viewable from the veranda.
Friday morning we ventured into Jaffa flea market which is part of the main souk and general shopping come commercial area. Lock-up after lock-up presents everything you would need. You could buy your fruit and veg in one, get your bike repaired in the next, buy a deep fat chip frier, get your hair cut and buy a parakeet. Eventually you come across the stalls selling bread, bagels and the excellent pasties with various fillings particularly cheese, spinach and potato. The potato pasties contain white fluffy mash and are simple and tasty and they became my breakfast of choice. Incidentally on the last day we had a selection of smaller puff pastries with spinach, cheese, etc, along with freshly squeezed orange juice, a breakfast I could enjoy every morning sitting on the roadside in the morning sun. Jaffa must be typical of arab neighbourhoods being a chaotic, messy, noisy town that has a clear sense of community and I bet its easier to go about your daily life in these areas than in modern cities.
Shabbat Shalom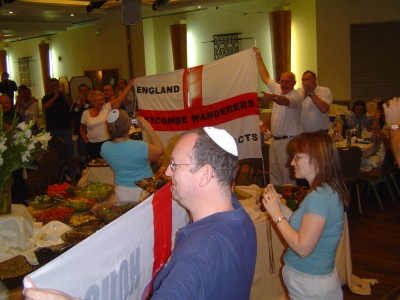 As a result of the successful visit to Dachau during the World Cup in 2006, Maccabi GB wanted to further the relationship with England fans by hosting a dinner on the Sabbath and so following the Football 4 Peace fan event at Sportek we wizzed over to the Maccabi International Convention Centre in the suburbs of Tel Aviv for a night of meet and greet and cultural exchange. The plan was to share each dinner table between Israelis and English so as to promote chit-chat. However we shared a table with 4 ManU fans with broad Lancashire accents who had flown out for the game. Although Jewish, we didn't learn much about their customs and religion. This was left to the rabbi who conducted the Shabbat meal. He enthusiastically took us through an abridged version of proceedings for a Sabbath meal which to my delight involves blessing wine. The meal was served in 3 courses starting with a huge array of cold appetizers including some spicey dishes and some wierd beetroot looking vegetables with the consistency of tomatoes minus the pips. Kosher meat comes from hooved animals that chew the cud and so beef but also chicken and fish were served for main course along with roasted vegetables of potatoes and peppers. Dessert was no different to anything served in the West, a shame considering how delicious arabic sweets are. A bit of singing and swaying was followed by speeches and tributes. The whole evening was pleasant, friendly and fun, devoid of political or heavy handed sombre religious overtones. Our hosts were clearly pleased to meet us and we are indebted to Maccabi GB for an excellent spread. Englandfans intend to reciprocate with events during the return fixture in England.
The Green Line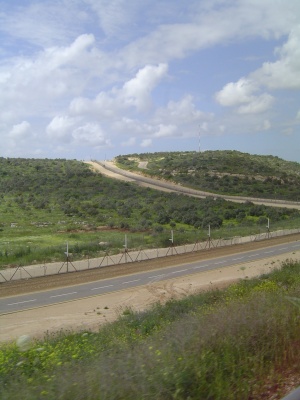 An 8:45 start meant an early rise and brisk walk along the promenade up from Jaffa. In association with the
British Council of Israel
, Mark Perryman had organised a trip to northen Israel to visit the best arab team in the Israeli league. Firstly though we diverted from the main road to skirt along the infamous security fence separating the West Bank from "undisputed" Israeli territory. At most points the fence is only a 2 meter high rather paltry looking electrified wire fence more likely to stop roaming goats than terrorists. As highlighted in the press the border or so called green line is somewhat randomly placed without consultation of Arab wishes and a good example of this was seen as we passed Umm-el-Fahm, an Arab town of 30,000 inhabitants on the Israeli side of the fence only a few kilometers from the border. Some serious rioting took place here in 2002 including running battles with Israeli forces resulting in some deaths on the main road on which the coach was travelling. Again in 2006 locals protested against the Lebanon war, however some reports show that not every Arab is unhappy with Israeli citizenship as they see Israeli democracy and law as a better alternative to the chaotic, unsettled and economically deprived areas of the Palestinian territories.
The Land of Milk and Honey
The trip up to Sakhnin the home of Bnei Sakhnin took us through a broad valley with Nazareth visible up on a hill on the left. Mount Tabor a hill of biblical proportions could easily be imagined as a congregation point for people 2000 years ago. As we neared the Sea of Galilee we passed over a hill range at about 700m which looked like any part of the Yorkshire Dales! Apparently hiking is very popular in Israel and these hills had marked trails as evidence of that. At this time of year its spring in Galilee and everywhere is covered in a carpet of green grass. How long this lasts is debatable as the guide book says it never rains in Israel during the summer months. But in spring Galilee is a beautiful landscape with soft rolling hills, hilltop towns and of course the lake, workplace of John the Baptist. If we return to Israel one day, then remember to pack the hiking boots!
Playup Bnei Sakhnin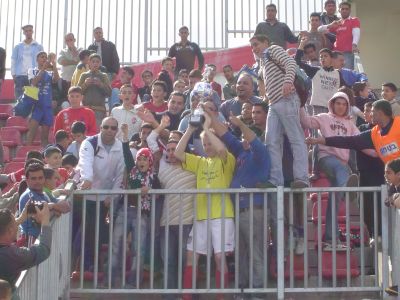 Arriving at the Sakhnin stadium at about midday, we paraded on the pitch to the applause of 500 or so local fans. About 100 England fans took up position in the VIP section as we watched a veterans team lose 3-2 to the Sakhnin oldies. Pride was restored as the 20-somethinks beat the arabs 1-0 with a well worked goal of skill rather than passion. Some crunching takles worthy of the Dr.Martens second division saw one of their fellas stretchered off, but hey if you play with fireworks...! The Sakhnin Ultras were in good voice and one wag climbed in with them to teach them some english footy chants and they bashed out some classics on their big base drum. Sakhnin had reached the first round of the UEFA cup a couple of years ago losing 7-1 on aggregate to Newcastle and one arab fan was proud of his Sakhnin-Newcastle scarf from the tie. This he generously gave as a present to an England fan...from Middlesborough, who was too embarrassed to refuse it. Once word had got around town that the "Ingleeesh" had arrived the crowd swelled to over a 1000 and we mixed in with them for some face-to-face. Not many arabs speak english it seems, so not much was said. As the Saints shop had not successfully sent my order of Saints memorabilia, I didn't have anything to give out, but Mark had a bag of FA goodies and some arabs went home pleased with their flags and badges. Two huge trophies were awarded to the two sides and so England could claim that they'd already won in Israel. The whole event was apparently filmed by Aljazeera and so possibly the England players saw the trophy on telly before leaving for their game. How could they match such feats, clearly they would be under pressure from the kick-off!
Humus With Everything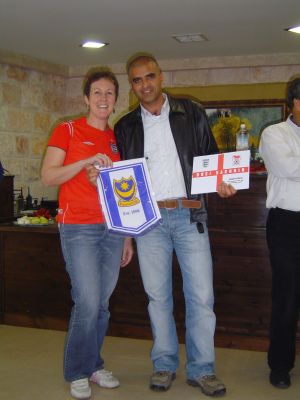 Nearly leaving a couple of our players behind the coaches zoomed off for lunch. As planned this was at an arab restaurant called "Caesars Nest" in the countryside somewhere on the way to Haifa. We rolled up to tables ladened with fresh produce, diced cucumber and onion salad, tomato onion and garlic, sweet corn, chick peas, rucola salad, humus, all which I stuffed into a pitta bread. This was followed by tender shish kebabs, the lamb chunks were deliciously juicy. More kebabs were followed by a beef dish and yet more dishes by which time we were all sated. Beer, wine, juice flowed but we hardly made a dent in the offerings leaving a mound of food behind. The restaurant owner was bursting with pride at the unusual gathering and he had special reason to be very proud as during lunch an A-List VIP arrived to welcome us to Israel. The Israeli cultural and information minister who is the first and only arab to be voted to the cabinet gave a short speach and we applauded his visit heartily. The restaurant owner was desparate to get the minister to stay for lunch but his security was having none of it. These fellas were straight off the telly, expressionless jarheads with that curly coil of wire connecting one ear to the back of the shirt collar. No guns on view this time, but this was a huge deal considering the security climate. The minister came and went inside 15 minutes but it just goes to show what these events can mean to the countries we visit. Presentations of memorbilia followed to Sakhnin club officials and not to be left out Bev presented the chairman of the Sakhnin fan club with a Pompey pennant, the connection being that Arcadi Gaydamak the father of the current owner of Portsmouth FC has given Sakhnin 2mil for player investment. As we were leaving, an enterprising arab was waiting outside to flog us the most unlikely of souvenirs, a scarf sporting England and Bnei Sakhnin (in Hebrew). As luck would have it Sakhnin play in red and white so the colour suits us nicely.
Tiny Tiny Israel 0 Mighty Mighty England 0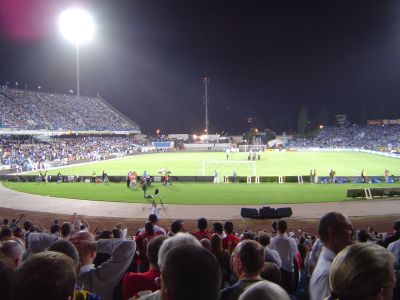 The rousing inspired "sh*t ground, no fans" is only half true for Israel. Huge excitement surrounded the game and loads of people were left frustrated without a ticket. 35,000 Israelis dressed in sky blue and white filled the ground. Their ground on the other hand is pants, but they are talking of building a new 60,000 seater soon. About 4000 St.George disciples occupied one end and were well behaved. Not that we weren't provoked mind you as the performance of the England team was enough to leave the most mild mannered of England fan baying for blood. Left-right, right-left went the ball across the back four but never back-front. Israel could not afford to lose otherwise their qualification chances would be too slim. They set out their stall for 0-0 and got it. We could have sneaked it at the end with 2 chances from Defoe and Carragher but we didn't deserve it really as although entirely dominant we played without any clue how to break down the opponents. Tal Ben-Haim had an inspired game and Israel can thank him for their point. They can feel fully justified in their game plan as they went on to beat Estonia 4-0 a few days later and lept England into second place. For the record we didn't join in with the boo-boys throwing personal abuse at McClown but we did greet Lennon's substitutuion with cries of "you don't know what your doin". An inspired manager like Moaninho may well have taken off the right-back with 30 minutes to go but he would have put on another offensive player such as a right winger unlike McClown who brings on another right-back. And low and behold, with 10 minutes to go he swaps the left winger for...another left winger, about as inspired as anything Middlesborough ever did. With Israel playing only one up front and tiring as the game went on England could easily have switched to two wingers sacrificing a defender for it. The boos at full time were fully justified because the players and management must be reminded in no uncertain terms what is expected of the Three Lions. Its fortunate we didn't travel for the football ;-)
I Can See Jordan From Here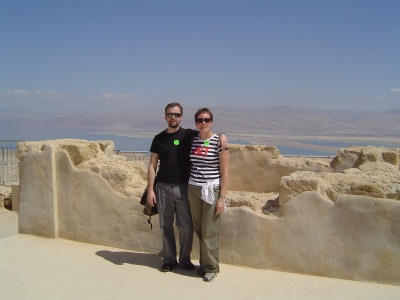 Having got to bed at about 1am we were up again at 6:30 to get the coach to the Dead Sea. The guided tour bus left Tel Aviv at 7:45 and having trawled through Jerusalem we were given a great view of the Dome of the Rock from high up near the Mount of Olives. The coach left east Jerusalem on "new road" heading into Palestinian terrority and we passed Bedouin encampments along the roadside. Apparently Bedouins don't move around so much anymore preferring to stay within easy reach of the towns but their goat herds and flocks of sheep still feed on the thinly grassed dunes and have left swirls of concentric tracks on the hills outside Jerusalem through years of grazing. A classic photographic opportunity presented itself as we passed two Bedouin lads astride their donkey making their way along the road, one of them on his mobile! We passed Jericho shimmering in the desert heat, a walled town over 4000 years old. Its historically arab and has been handed back to the Palestinians in recent years. Going at this time of year means there were hardly any other tourists around and we arrived at the old Herodian fortress of Masada as only one of a few coaches. Masada overlooks the Dead Sea area with commanding views and it was more impressive than I expected. Archeologists have reconstructed parts of the buildings enough to give a good impression of what it was like 2000 years ago and I particulary loved how they picked out the foundations of the Roman barracks below on the surrounding plains which had been erected to besiege the Zealots. The earth ramp that the Romans built to finally storm the fortress is still there and it invokes a scene of desparation that the Zealots must have felt as they knew that the game was up. I had pictured visiting this place when reading the guide books and was not dissappointed. Its simply amazing that Herod constructed his palace on the north side of the cliffs in order to lounge in the shade rather than in the baking open plain of the mountain top. Also a water gathering system collects precious rain water in multiple "cisterns" scraped out of the lower mountain and the water is then brought to the mountain top and stored in two huge cisterns for daily use. I couldn't help feeling Herod was abit mad in constructing these audacious palaces a feeling born out by the fact that he had a sauna built in keeping with Roman etiquette despite being in one of the most arid and hot places on earth.
Bobbing Along on the Sea of Salt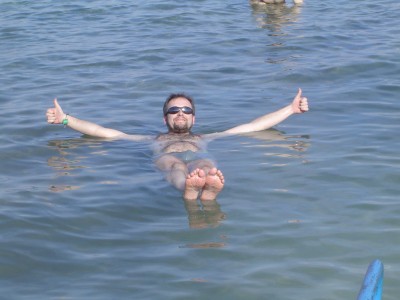 The spa at Ein Gedi on the Dead Sea offers a strange access to the lake, not only has the lake receded at least 500m in 30 years (very alarming, another 100 hundred years and it will be a puddle) but the "life guards" insist on "swimmers" staying within a small area from the shoreline and so it could be a crowded place at the height of the tourist trade but despite being a Sunday there were only about 20 people in the lake. Various warnings from the guide book make you cautious when you get in the water. Despite the 30% solids the water doesn't look any different from normal but apparently if you get it in your eyes or in a recent wound it burns like hell and is a very shocking experience. So donning sunglasses we gingerly lowered ourselves into a sitting position before laying back and...hey presto we were floating. They say you can't swim in the Dead Sea, we didn't exactly try the front-crawl but if you adopt asortof sitting position with knees spread poking out of the water you can use your arms to crawl forwards and backwards. The Dead Sea lays at 400m below sea level and is the lowest point on Earth, however the surrounding hills including Masada and Jordan on the other side rise up to hundreds of meters above sea level and so whilst bobbing on the lake you get an impressive view of the surrounding hilly desert. Its a place of biblical images and you can easily imagine Brian asking to go to the stoneing! Bev applied the famous healing green mud all over and looked like a member of the Black&White Minstrels whilst some arabic women fully dressed including hijab, covered themselves in the mud. They sat nearby and chatted away like any other group of woman no doubt debating the rights and wrongs of two piece bikinis. We didn't stay to see just how the arabic women get all the mud off but Bev used the sulphur spring only to be shocked in just how salty it is. Refreshed we left Ein Gedi after 2 hours for a stop at the Ahava Dead Sea mud/cosmetics factory before zooming off back to Tel Aviv (about 2 hours without stops). Ein Gedi really deserves at least another hours stay as it has a number of facilities in the spa that we didn't have time to use.
Happy Birthday Bev
Although really on the following day we were back in Jaffa just in eough time to go out to dinner to celebrate Bev's birthday. We had previously eyed up a likely looking place in the most unlikely of places. Most of Jaffa has the grubby lock-up look of most arab neighbourhoods but in a dingyish, dirtyish, very old arched alleyway connecting the main road with old Jaffa we dined on a 5 course degustation of fish and asparagus dishes including excellent Israeli sauvignon blanc. Restaurant Cordelia (1 Hazchuhit off corner of Yefet 30), is an oasis of contemporary culture. Its almost like they opened it specially for our visit and we would have been hard pressed to find a better place in the whole of Tel Aviv: contemporary menu in a nostalgic atmosphere with excellent service and great wine to boot. Stuffed but contented we lolled back to the hotel through the ancient alleyways of old Jaffa.
Jerusalem the Religious Melting Pot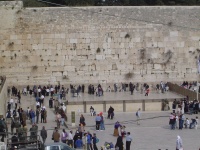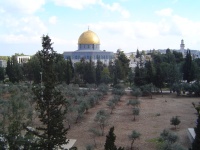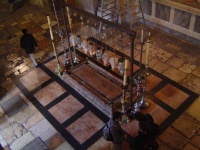 To cap off our visit we went to Jerusalem and I was looking forward to a feast of historical artefacts. The intended guided tour didn't work out as we were the only 2 people who wanted to go on it and so welcome to the G&B English Walking Tour of the Holy City. The Armenian quarter is quiet and devoid of activity. The Jewish quarter is in the original sector of the city and contains some roman and byzantine excavations. Twisting alleyways open out into the square that contains the Western or Wailing Wall. Its an unassuming place and you can't see the Mosque behind the wall. Jews mill about and approach the wall for prayer and readings from the Torah. Men and woman are segregated and Bev went off to her bit whilst I donned my kipper which I got from the Shabbat meal and approached the wall myself. I didn't post a note in the wall but Saints went on to win 6-0 away at Wolves the follwoing weekend in any case! I wandered into a prayer hall at the side of the wall where many jewish fellas were reading the Torah, except for one guy who was definately praying whilst asleep at his little reading desk. A jewish fella in full orthodox garb apparoached me and asked me something in hebrew and when I said I didn't understand he asked "Are you Jewish?" before resorting to french! He tried many times to get his question understood but finally gave up. I dunno what he wanted or whether I was doing something wrong but I continued looking through the bookshelves of religious literature before slipping back out into the square.
On the trail of the world's most important religious sites the next stop is the Dome of the Rock and the Al-Aqsa mosques enclosed within the walls of which the Wailing Wall makes up part of the western side. This part of town is clearly more arabic with more noise and colour and kids running around playing games. Clearly people live in this quarter unlike the Armenian sector where no daily life was visible. On approaching a gate into the mosque compound two security guards firmly stopped us with "muslims only" in english. I could've been muslim for all he knew, but his guess of english speaking christians was fair enough and we didn't argue. The mosques are open to the general public at certain times but less so in the winter months and we were told the publicised times mean little. Fortunately an arabic shop keeper guessed we wanted to see the mosque and led us to a grilled window from which we could see the compound and take some photos. This is at station 2 of the Path of Christ where Jesus received his cross and we could see an arab family picnicing in the grounds, a good choice as no tourists are allowed in to crowd the place. You can not see the Dome of the Rock from anywhere else in the old city unless you go up the Mount of Olives for the classic view of the mosque that you see on the telly. We subsequently didn't have time for that.
Via Dolorosa
We began the path taken by Christ on the day of the crucifixion from "station" 1 where Pilate condemns Jesus to death. There is a chapel there now where a number of pilgrim groups were beginning retracing the steps of Christ. Accompanied by songs and prayer these groups of differing nationalities and denominations follow the path through the stations stopping at each chapel to comemorate. We stopped at the chapel of station 5 where Simon the Cyrenian beared Jesus' cross and it was impossible not to picture the scene in the Life of Brian where the fella ends up being crucified in place of the condemned! Jesus seems to have put a spurt on from here as the remaining stations are enclosed within the the Church of the Sepulchre towards the other side of the old city. This is the spot where the crucifixion took place and there are alters at the sites where Jesus was stripped, hoisted up and finally taken down. A sepulchre is a stone tomb usually hewn out of rock and often closed by a stone slab. The marble slab enclosing the tomb of Jesus is laid just inside the door to the church and every visitor stoops to touch it and say a prayer. The church is a collection of architectural styles added over the centuries. Its dark, spooky and without a guide abit confusing. Nevertheless it is an intriguing and unusual place and parties of pilgrims move around the church bursting into song and taking prayer. It must be the most moving experience for the devout christian and we were both moved especially at the alter of the crucifixion where you can put your hand through a hole in the altar to touch the rock on which the crucifixion took place. Millions of people must have undertaken this act over the centuries and you can't help but be reflective at this spot unlike some young israeli soldiers who were larking about and had to be reprimanded by a christian orthodox fella on guard. Some well deserved arabic sweet pastries were scoffed at a nearby cafe before briskly making our way back to the bus station on what turned out to be a rather chilly day.
Short But Sweet
Despite the poor football match we had a great trip, achieved all we set out to do and left with an impression that exceeded our expectations. The guide book describes Israel as a land of contrasts and beauty and for once it is true. Fertile and softly beautiful in the north, arid and biblical in the south. Although the security climate in the Midlle East should never be taken lightly we were never in any doubt about our safety and would consider coming again if the opportunity ever presents itself. March is a good time of year to travel around Israel but I think April would guarantee warmer weather which is importatnt when visiting Jerusalem which sits at 800m above sea level. Shalom.
Barcelona
Zooming over to Barcelona for the Andorra fixture was never going to be anything other than a smash-and-grab for 2 more Englandfans caps and in this respect doesn't warrant a large report but a couple of things are worth recording. Firstly, for lunch we stumbled across a fine restaurant that we had been to before. Not until we had gone through the door was it apparent that we had by chance rediscovered Pitarra in the old town at C.d'Avinyo 56 just round the corner from Esglesia de la Merce. Although light and airy with contemporary art hanging from the walls Pitarra was established in 1890 and is surely a Barca institution. We helped Abuelo Jose shuffle in for his daily lunch, most tables were reserved and we were for a time the only people there but when we left 2 hours later the place was full both upstairs and down. Jamon with gaspacho bread was followed by monk fish in a potato and onion catalan sauce. Naturally we both finished off with huge crema catalanas all washed down with a superb bottle of Torres Fransola sauvignon blanc which was as rich as chardonnay. I sufferred for my art for the next 3 hours dragging my sorry bloated stomach off to the hotel, but hey, it was worth it. Over HRS, Bev had booked the four star
Fira Palace
on Avenida Rius i Taulet near the exhibition centre. A very comfy posh place of the business hotel type with swimming pool and comes highly recommended.
The Boo Boys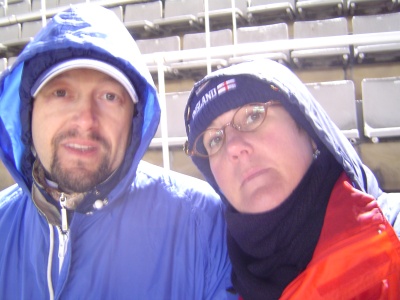 16,000 England fans occupied both sides of the Olympic Stadium atop windy rainy Montjuic. Both ends of the ground remained empty but I did spy a couple of Andorran flags in the opposite stand amounting to a token gesture. I had expected more spaniards to come to the match but with Spain playing at the same time that was not going to happen. An amusing moment was when we noticed that the national, UEFA and fair play flags flying on the poles on our side of the stadium had been replaced by two Oldham Athletic St.George crosses where they remained for the duration of the game flying proudly in the brisk windy conditions. Now these are the facts...the booing started exactly 20 minutes into the game after we had given the team a fair period to prove themselves, but one mislayed pass too many provoked everyone including Bev into cries of frustration. We had 90% of the possession but with no ideas. With 0-0 at half time a cacophony of boos rained down from the faithful and nice Mr.McClaren was compared to banking staff, mostly by the chavs and part-time England followers but full-time dick-heads. More energy in the second half saw England score 3 goals and run out easy winners. Steven Gerrard bagged 2 good goals from the sort of midfield attacking moves England should use in all games. Gerrard takes responsibilty when Lumplard is not around to magnetise the ball to himself and I would like to see the team built more around Stevie than Fat Frank. Hargreaves has cemented his position in the "Paul Ince" role and played well in both games but he's a luxury against such weak opposition who nominally play one up front. A world class defence of Cole, Terry, Rio, Richards does not need Hargreaves aswell to handle puny Andorra. Even if they did score we would easily score more than them. In such fixtures England should be more attack minded with Shaun Wright-Phillips and Lennon terrorising their full-backs. Gerrard should always always always be looking to go through the gap to beat the flat back 5 of the minnows defence and indeed in this game thats how the second goal was scored. Lumplard can't pick his nose at the moment nevermind the right pass so the rumours that he was dropped for this game (despite a wrist injury) are welcome. Play Crouchy and above all be more flexible with the starting 11, picking from the whole squad to suit the opposition. We all think a better manager would do a better job, I thought that before McClown was appointed and I feel completely justified.
The day following our return from Spain, Bev jetted off to the UK for her 7th flight in 9 days...but that's another story.